Around the world, construction is generally not possible without the use of the right types of scaffolding. These temporary work platforms, put up around buildings and in civil engineering structures, allow workers and their tools and materials to be safely transported along their multistoried heights. This, in turn, allows them to safely and efficiently complete tasks such as painting, plastering, and brickwork on the outside of buildings. Many kinds of scaffolds are also used inside buildings, allowing workers to reach hard-to-reach places such as ceilings or electrical fixtures.
Scaffolding is built in multiple variations, depending on construction workers' task requirements and the specifications of the building they are working on. While some countries use the low-cost option of bamboo or wooden scaffolding, large-scale construction projects employ other materials such as steel or aluminum types. These metals offer superior strength and sturdiness as well as the capacity to be built up to significant heights. Although aluminum is more expensive than steel, it is often the preferred material for many types of scaffolding because it is light and therefore easier for workers to carry. The assembly and disassembly of aluminum scaffolds are therefore also quicker.
TYPICAL SCAFFOLDING PARTS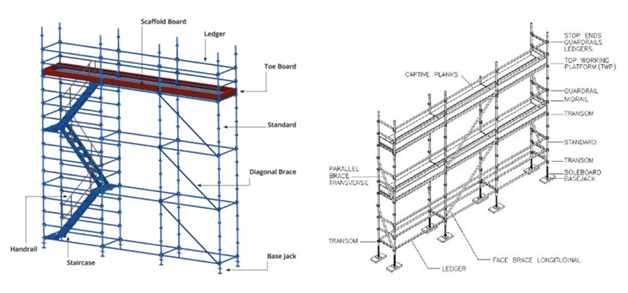 Source: Avontus 
Scaffolding can come in many different variations. Typically, it is formed by one or more planks that are connected by various supports, depending on the scaffold's particular configuration.
Below is a list of the main parts of scaffolding with their functions explained:
Base jack: Sometimes known as the soleplate, the base jack is the load-bearing base for the scaffold that consists of plates placed on the ground. It supports the vertical poles, called standards, that form the scaffold.
Standards: Also called uprights, standards are the vertical poles forming the scaffold. They often comprise some joint types, which are connected to the horizontal braces, called ledgers, that form scaffolds.
Ledgers: Ledgers are horizontal braces, running parallel to the wall, that supports the standing platform of the scaffold.
Putlogs: Putlogs are horizontal braces, running perpendicular to the wall, that supports the standing platform of the scaffold.
Transoms: Transoms are putlogs whose both ends intersect with ledgers. They are load-bearing, often holding up the boarding planks, called batten or decking board, on which workers stand.
Batten: Alternately called board or decking, batten refers to the planks that form the standing platform for workers on a scaffold.
Brace: Braces are diagonal tubes that lend rigidity to the overall scaffold structure.
Bridle: Bridles are horizontal braces used to bridge openings.
Coupler: Also called couplers are fittings used to join the various components of a scaffold together.
Scaffold tie: Scaffold ties are used to secure the scaffold to other structures.
Guard rail: Guard rails are one form of protective barrier on scaffolds. They are typically about one meter high and keep workers from accidentally falling off the scaffold.
Toeboard: Toeboards are another form of protective measures on scaffolds. They are very short vertical barriers that give workers a sense of their position on the scaffold in relation to its edge. They also help prevent tools such as screwdrivers from rolling off the edge of the boarding.
Some scaffolds come with different ladder types or stairways to help workers climb on and off and sometimes overcome, physical obstacles. Others may also have rubbish chutes to safely remove unwanted materials from the scaffold.
CONSTRUCTION SCAFFOLDING TYPES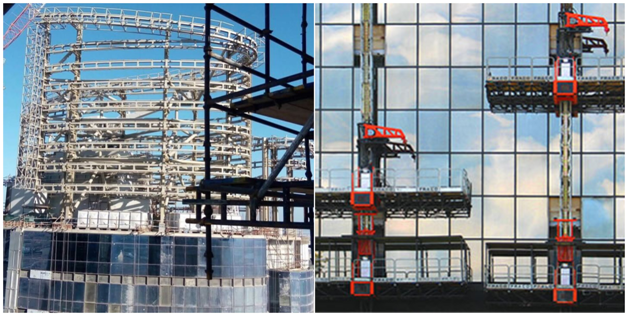 Using these basic parts, contractors and workers build specific scaffolding types to suit their particular needs. We take a look at the commonly used scaffolding types below:
Tubular and Walk-through Frame Scaffolds
Tubular frame scaffolds are one of the most basic scaffolding types, which can be molded to suit the lengths and configurations needed for a particular construction project.
While steel frames are common, aluminum tubing is also fast becoming popular. The lightweight metal allows for quick assembly and disassembly by workers. It is common for tubular frames to have ladders attached or built into them; however, for high-rise scaffolds exceeding heights of 30 feet, staircases or ladders with extra safety provisions are advised.
A variation of the tubular frame scaffold is the walkthrough frame, which features high platforms that allow for uninterrupted movement of workers, pedestrians, and/or materials below.
Rolling Scaffolds
Simply put, rolling scaffolds are scaffolds on wheels, often used for internal work on buildings such as electrical installations or wall painting. As these tasks require same-sized scaffolds for short durations at multiple locations, wheels enable one scaffold to be conveniently transported wherever it is required. Of course, these scaffolds are also equipped with brakes to firmly park them where needed.
A variation of the rolling scaffold is the farm wagon scaffold, which is hoisted over a machine with tires. This is typically used for external work, typically sheet metal siding and similar materials on industrial buildings.
Tube and Clamp Scaffolds
Tube and clamp scaffolding is one of the oldest forms of steel scaffolding that has enduring popularity due to its flexible design. Consisting of two components, the tubes and clamps sometimes known as couples, this kind of scaffold is easy to put together and can be configured to take any desired shape.
To assemble, construction workers simply have to connect the vertical and horizontal tubes together using the couples and create any kind of scaffolding structure, regardless of height, width, or shape.
This makes tube and clamp scaffolds especially useful for buildings where obstructions make more linear scaffolding types impossible to use.
Systems Scaffolds
Another type of flexible scaffolds is systems scaffolds, which use prefabricated sections of horizontal and vertical components to create the structure required for a construction project. Although they are not as malleable as tube and clamp scaffolds, they are able to be used for non-linear, circular, or dome-shaped buildings.
Systems scaffolds are manufactured in many different varieties, such as steel versions for heavy loads and lighter aluminum ones for smaller repeated scaffold structures.
Cuplock systems scaffolding, for example, is made from galvanized steel with connection points (called cuplocks) regularly placed at every half a meter to a meter's distance. This makes it ideal for creating standardized systems with repeated patterns.
Another popular type of systems scaffolding is staircase towers, which allow workers to easily move from level to level of the tower. These are useful when workers need safe, temporary access to one specific section of a building.
Suspended or Swing Set Scaffolding
For extremely high-rise buildings or for construction work involving the upper storeys of a building, contractors prefer to use swing set scaffolding that is suspended from a building's roof. This is considered a more convenient and economical alternative to other scaffolding types, which are built from the ground up.
A swing set scaffold consists of a platform that is moved up or down a building's height by means of a cable pulley system, electric motor, or external crane. However, some swing sets are fixed and their platform height cannot be adjusted for positional advantage.
Swing set scaffolds are ideally used for small-scale work such as quick maintenance work, like painting, but heavy-duty varieties can be used for longer-term tasks.
Mast Climbing Scaffolding
Like swing set scaffolding, a mast climber can also vary its position along a building's height by moving along a fixed tower that is built from the group up. The platform is powered by an electric motor or gas engine. The tower's length can range from just a few floors to multiple stories, depending on the project.
An obvious advantage over swing sets is that it is capable of bearing large loads and its position can be minutely adjusted, which comes in handy for brick or block-work. Another benefit of using mast climbers is that they can be accommodated in construction sites with the limited area as they do not take up a lot of space on the ground. However, they may contain more than one tower, depending on the scale of the work being done.
They are best suited for medium- to high-rise projects and are also found useful by workers engaged in installing siding or windows or plastering walls. Often, the mast climber has separate platforms for workers and materials at different heights, which offers ergonomic ease to the workers.
A part of the Arab Bulk Trading group, Saudi Scaffolding Factory (SSF) has been in the business for more than 35 years with a presence in major cities such as Jeddah, Dammam, and Riyadh. The company has built a reputation in supplying a range of scaffolding products, including Kwikstage, Cuplok, and Ringlok systems, table formwork, tubes, couplers and boards, and aluminum system scaffolds and ladders, to multiple large construction powerhouses in the Kingdom of Saudi Arabia. To find out more about how scaffolding companies can help you with the timely and safe execution of your scaffolding while ensuring safety and best practices, get in touch or click here.