Uncategorized
Studio Studio Studio, an interdisciplinary lab founded by Edoardo Tresoldi, scaffolded and constructed a unique pavilion as part of the Diriyah Oasis project in Riyadh.
The project explores the intricate relationships the exist between man, landscape and architecture. Multiple installations exist within and come together at the center.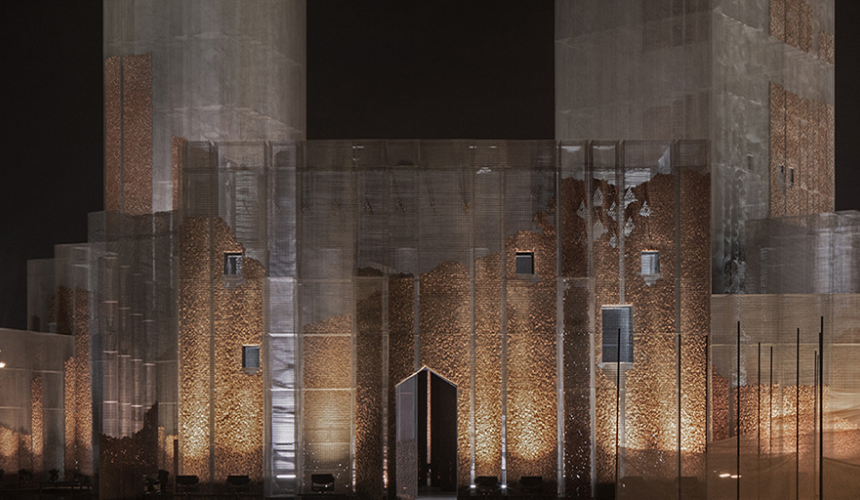 Ruins in Saudi Arabia inspire experiential pavilion installation
Inspired by the local ruins of Diriyah
Diriyah is a town in Saudi Arabia located on the northwestern outskirts of Saudi's capital, Riyadh, and was the original home of the Saudi royal family, under the first Saudi dynasty from 1744 to 1818. It also served as the capital of the Emirate of Diriyah, the first Saudi state. The Turaif district in Diriyah was declared a UNESCO World Heritage Site in 2010.
Brought to life by professional creatives
It is with this inspiration that Tresoldi uses his signature wire mesh, with the right scaffolding allowing for construction of the 25-meter-high pavilion, along with cork that outlines intimate spaces and narrow pathways. Tresoldi and Dubai-based studio Designlab Experience collaborated with designer Alberonero, musician Max Magaldi, and garden designer Matteo Foschi for a completely immersive experience.
A "room" that encourages a range of experiences
Gharfa, which contains multiple spaces allowing for many different types of experiences, provides an opportunity for visitors to both socially interact, as well as seek and experience solitude. According to the designers, visiting it is akin to a theatrical performance, where creative techniques are used to combine reality and illusion.
Each space exists independently but adds to the overall environment. Duna, a semi-transparent fabric-based installation by Alberonero, symbolises a white horizon or journey into the void. Then there's a green installation by Foschi in which greenery is made to intertwine with industrial materials. There is also Magaldi's sound narration, where each musical segment is simultaneously independent yet interconnected.
The pavilion successfully explores and potentially reinterprets the meaning of the human relationship, and how they combine with cultural archetypes. As the designers suggest, each element of Gharfa has a life of its own but was thought of and conceived as part of larger compositional narrative.
By interpreting culture and bringing together elements from the past, the present and even the future, the results are different spaces that act as an individual stage for each visitor's experience, but come together as one pavilion that examines the world as it is, as it was and as it could be.
To learn more about how SSF can help scaffold your construction project, get in touch with us here.